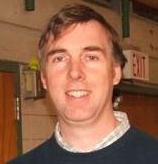 John Cooper's Rubber Powered Freeflight Page

Indoor Flying. I fly my indoor models with the Ottawa Indoor Model Flyers, in Ottawa, Canada. Flying is on Monday Nights 7-10 pm at the Woodroffe High School from mid-Sept to mid-May, with the exception of holidays. Come out and watch or join in. I will be glad to help anyone wanting to get into freeflight.
Freeflight Plans Here is my fleet of indoor models:
---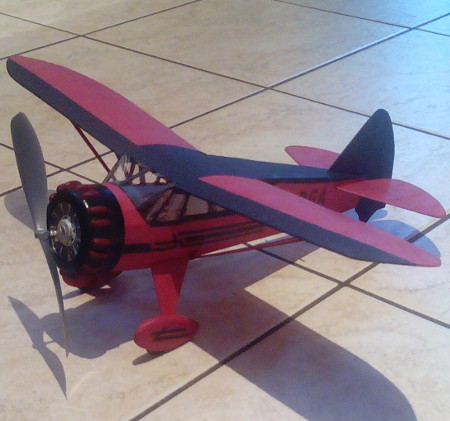 Dumas "Mister Mulligan"
Actually, the black and maroon paint scheme makes this a Howard DGA-21, not a Howard DGA-6 "Mister Mulligan". I went to a fair effort to reduce weight by substituting lighter thinner wood. The model finished quite nose heavy (good) but also slightly heavier than I wanted at 24.9g.. .No Video Yet
wingspan: 44.5cm (17.5")
weight: 24.9 g without rubber
power: 1 strand of 4mm
design: Dumas

built: 2017
-----------------------
---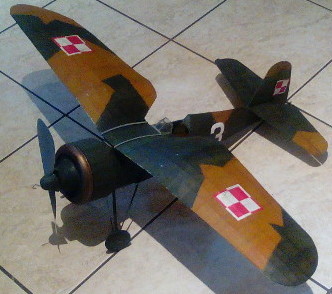 Dumas PZL P11c
Usually this goes the other way, but this model was originally built/altered for R/C and, in 2016, converted to rubber powered. It is set up for a tight right hand turn to avoid hitting walls. Large tabs for wash-out and wash-in are required to keep it from spiralling. .Video
wingspan: 76cm (30")
weight: 75 g without rubber
power: 2 strand of 3/16 inch
design: Dumas

built: 2004 (converted to freeflight 2016)
-----------------------
---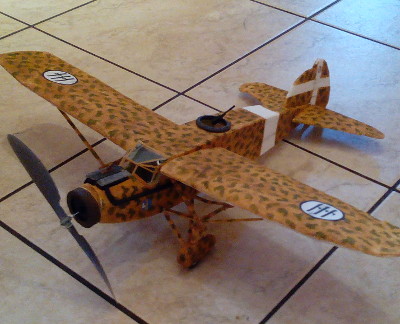 Caproni Ca.111
Another foam model, this one is built from 2mm polystyrene (wall insulation) and a few balsawood spars and bulkheads. The foam bends nicely across one balsa spar to form a very light wing. I painted the model with water thinned Tamiya acrylic paint; the paint spread and adhered well to the foam. The model performs quite nicely. Video
wingspan: 51 cm (20")
weight: 27.2 g without rubber
power: 2 strands of 3 mm
design: John Cooper

built: 2016
-----------------------
---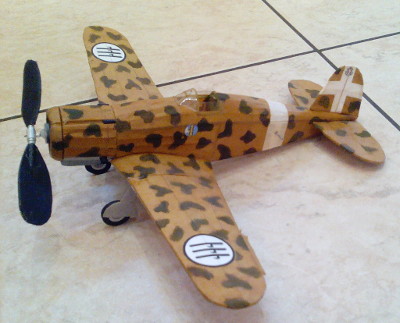 Fiat G.50 Freccia
I was a little worried about getting this model trimmed, with its low wing and scant dihedral. However, I made it slightly nose heavy and used a prop a little smaller than I normally would use. In the end, I was able to trim the model for consistent and stable flights. The plan is available at Outerzone . No Video Yet
wingspan: 33 cm (13")
weight: 10.2 g without rubber
power: 1 strand of 2.5 mm
design: Mark Fineman

built: 2016
-----------------------
---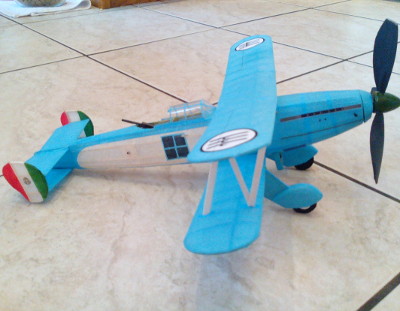 Caproni Ca.134
With its long fuselage, this model is quite a large peanut. The plan is available at Outerzone . Despite the mostly ideal proportions of the model, I am still not getting consistent flights. No Video Yet
wingspan: 33 cm (13")
weight: 15.5 g without rubber
power: 1 strand of 4 mm
design: Dave Rees

built: 2016
-----------------------
---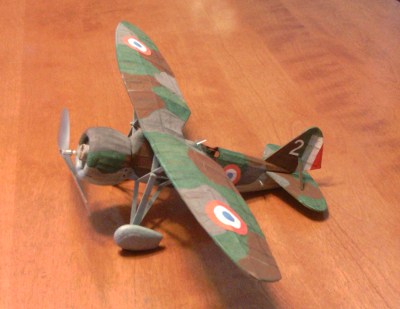 Loire 46
A fairly complicated model for a peanut, I was lucky to find an excellent plan (which I reduced to 50%) at Outerzone . It is a little heavy for a peanut, but it gets good flights nonetheless. Video
wingspan: 33 cm (13")
weight: 12.2 g without rubber
power: 1 strand of 3 mm
design: Don Buttman

built: 2016
-----------------------
---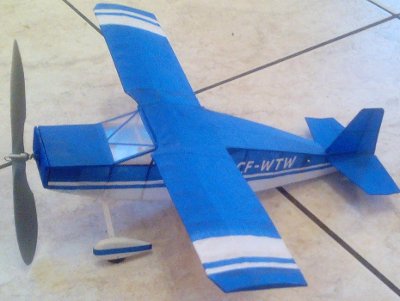 Nesmith Cougar
This is repair of an old model. I fixed numerous breaks and gave it a new covering job. No Video Yet
wingspan: 32 cm (12.5")
weight: 9 g without rubber
power: 1 strand of 3 mm
design: Peck-Polymers

repaired: 2015
-----------------------
---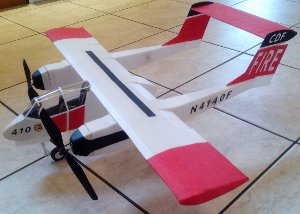 North American Rockwell OV-10 Bronco
My first all foam scale freeflight model. It is built from about $2 worth of foam pie plates. The red colouring is red tissue, attached with glue stick. Currently it can fly about 30 seconds and can also ROG. Video
wingspan: 61 cm (24")
weight: 53 g without rubber
power: 1 strand of 6.4 mm (each nacelle)
design: John Cooper

built: 2015
-----------------------
---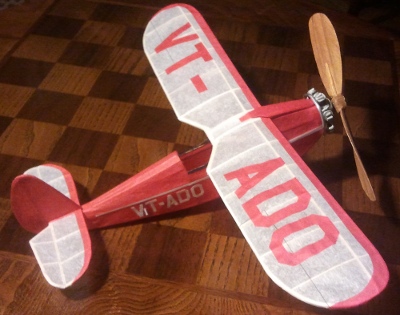 Comper Swift
Flies quite well for a model with little dihedral. Occasionally the rubber motor seems to rub against the nose, near the front hook, and the model loses power. I added a piece of heat shrink tube to help prevent this. No Video Yet
wingspan: 33 cm (13")
weight: 8.4 g without rubber
power: 1 strand of 3 mm
design: Andrew Moorhouse

built: 2015
-----------------------
---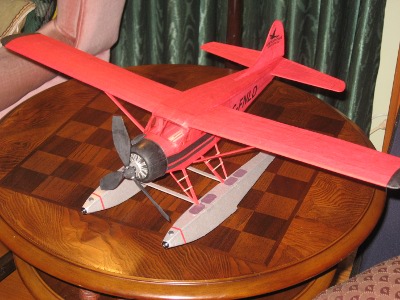 Dehavilland Beaver
This model is built from a Guillows kit. Unfortunately I built the float struts too short and needed to use a smaller home-build 3 blade balsa prop instead of the kit prop. I was able to get the model to rise off the gym floor, on floats, for a very short flight. Video
wingspan: 61cm (24")
weight: 33.8g g without rubber
power: 2 strand of 3/16 inch
design: Guillows kit

built: 2014
-----------------------
---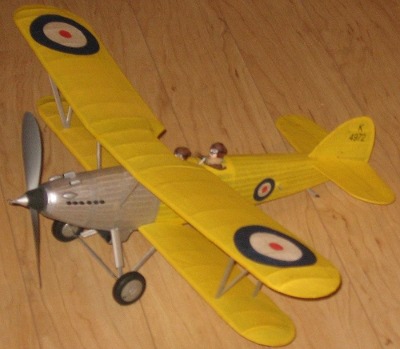 Hawker Hart
I modified this West Wings kit of a Hawker Hart into the trainer variant, with 2 forward facing seats. The model climbs nicely in a tight spiral, from a ground take off. Video
wingspan: 63.5cm (25")
weight: 60 g without rubber
power: 2 strand of 3/16 inch
design: West Wings kit

built: 2013
-----------------------
---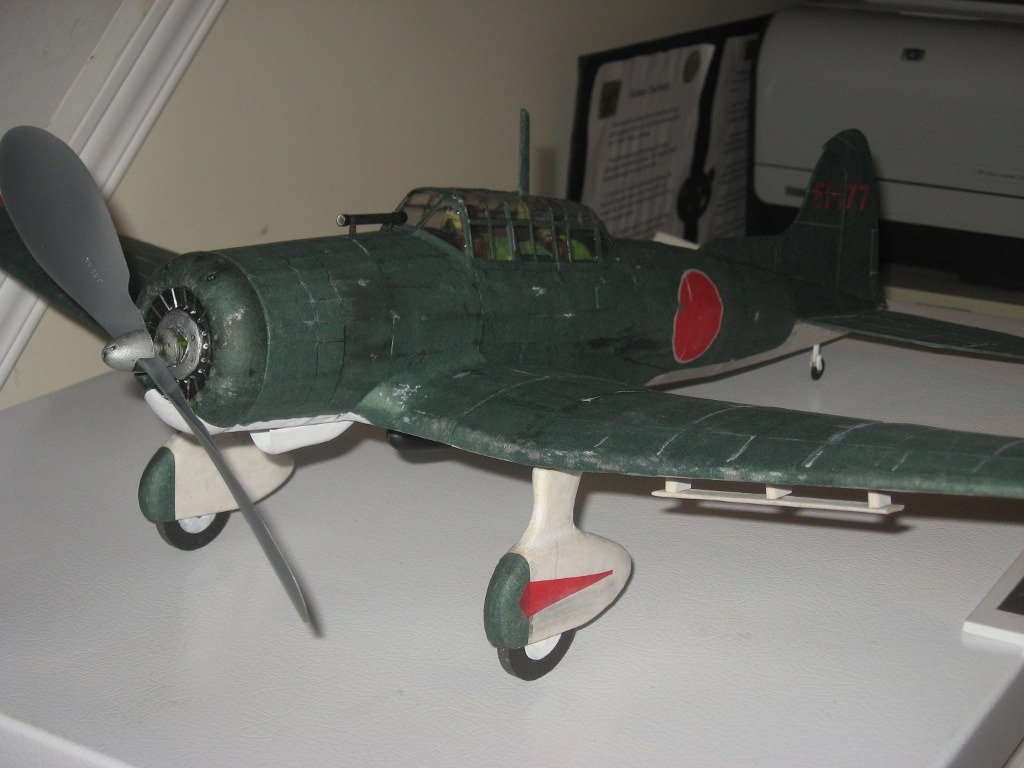 Aichi D3A Type 99 Val
This model is built mostly per the Dumas plan. The major exception is replacement of any heavy wood with thinner and lighter contest balsa. I was fortunate to find domestic tissue that was close to the scale color. I made this more opaque by chalking it with dark green. .Video
wingspan: 76cm (30")
weight: 72 g without rubber
power: 2 strand of 3/16 inch
design: Dumas

built: 2012
-----------------------
---
Stinson SR-7 Reliant
This is a peanut scale (13") Stinson SR-7 Reliant. I build this from a scaled down plan of the Comet kit. The plan I used was redrawn in CAD by Paul Bradley. The model is covered with red domestic tissue that was chalked with red. The black trim was done directly on the tissue with a laser jet printer. .Video
wingspan: 33cm (13")
weight: 6.3 g without rubber
power: 1 strand of 1/16 inch
design: Comet (CAD upgrade by Paul Bradley)

built: 2011
-----------------------
---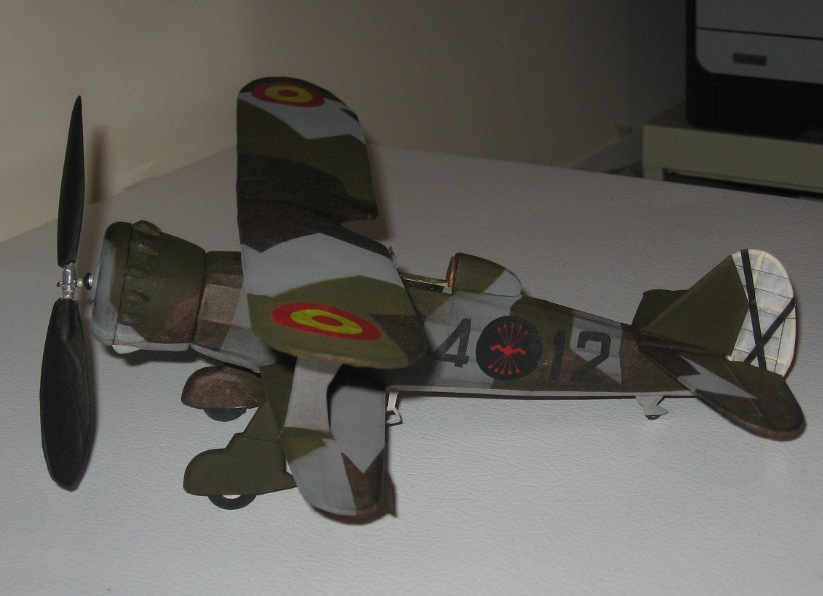 Henschel H.S. 123
This is a peanut scale (13") Henschel Hs 123. I was a little hesitant to start this model because there were so many difficult pieces to build. These included wheel fairings and cowl with numerous rocker arm blisters. However, the plane oozed so much character that I had to build it. .Video
wingspan: 33cm (13")
weight: 10.4 g without rubber
power: 1 strand of 1/16 inch
design: Pres Bruning

built: 2011
-----------------------
---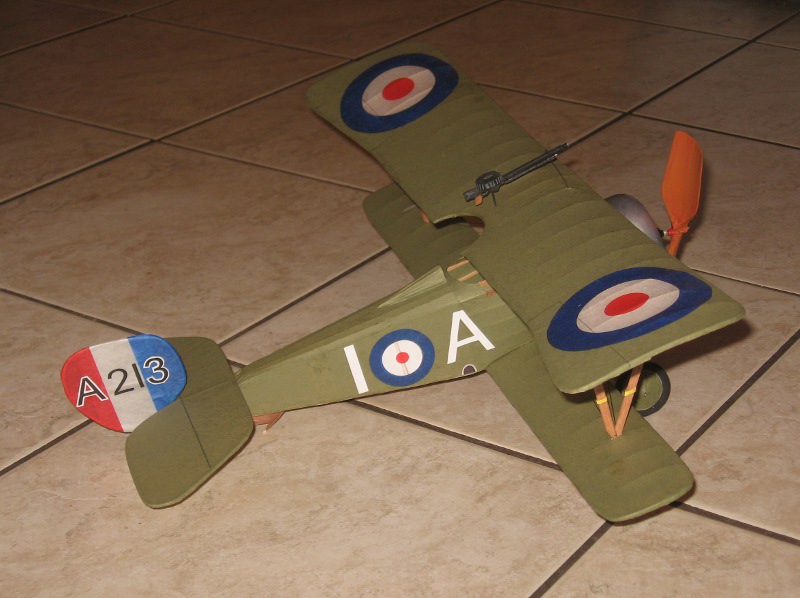 Nieuport 17
This is an overhaul of my 10 year old, worn out Nieuport Old Nieuport 17. I removed the rather wrinkly silver tissue and replaced it with domestic tissue. I also added more scale details like the rotary engine. The model is now finished in the paint scheme of Albert Ball. Video
wingspan: 51cm
weight: 35.8 g without rubber
power: 2 strands of 1/8 inch
design: John Cooper

built: 2010
-----------------------
---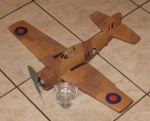 Grumman F4F Wildcat
For a WW2 fighter, this model turned out to be quite easy to trim. It was rather heavy due to its barrel-like fuselage and short nose moment. The wings are removable via balsa wood spars fitted into paper tubes in the fuselage and wings. It is covered with domestic tissue that has been chalked and painted. Video

wingspan: 48cm
weight: 40 g without rubber
power: 2 strands of 1/8 inch
design: Diels plans

built: 2010
-----------------------
---
Links

Darcy Whyte's great flying, yet extremely simple to build, stick and tissue rubber powered plane: www.rubber-power.com

---
---
jxoxhn.f.cooper@gxmxail.com - remove x's to get email address
Sibername.com Sibername Canadian Domain Name Registration and Web Site Hosting Canada - Perfect Solutions for the Internet
thecoopers.ca
jfcooper.wix.com/autogyro1935
autogyro1935.webs.com
582029506180623788.weebly.com
autogyro1935.zxq.net
autogyro1935.xtreemhost.com
softapparts.my-webs.org